NetSuite ERP is a powerful Enterprise Resource Planning software. Its scalability coupled with critical features like end-to-end business management has made it a critical component in business operations. Salesforce is the world's leading Customer Relationship Management (CRM) platform and is one of the important tools businesses utilize to collect and organize their customer data and turn them into valuable and usable insights that will ultimately help in improving customer satisfaction and driving up business.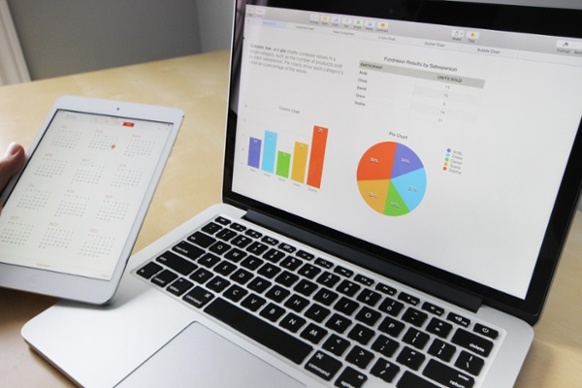 Both Netsuite ERP and Salesforce CRM are cloud-based software and provides businesses with powerful real-time business information and analytics. NetSuite ERP focuses on automating front and back office processes like financial management, revenue management, order management, and inventory. This allows management and everyone in the company who have access to NetSuite ERP to track and view data in real time.
What is SalesForce CRM
Salesforce CRM focuses on the management of customer relationships and data. Customer Relationship Management (CRM) software is used by more than 150,000 companies all over the world. It allows businesses to better focus on their customers, potential clients, business partners, and users. SalesForce CRM allows business to track and manage customer contact information in real-time. This allows businesses to efficiently build and nurture relationships with clients and business partners.
The CRM software accelerates the timeframe of the sales process by providing businesses with automated processes like Marketing Automation, Sales Data, and other Management applications. This also includes the setting up and personalization of email marketing campaigns. It also allows businesses to manage social media engagement with customers and set-up cross-channel communications.
SalesForce CRM also has crucial analytics tools that give the business an overview of the individual sales process of clients and customers, the lifecycle of a potential lead, and other important information like customer contact information and customer history. This enables businesses to improve the efficiency and productivity of business reporting.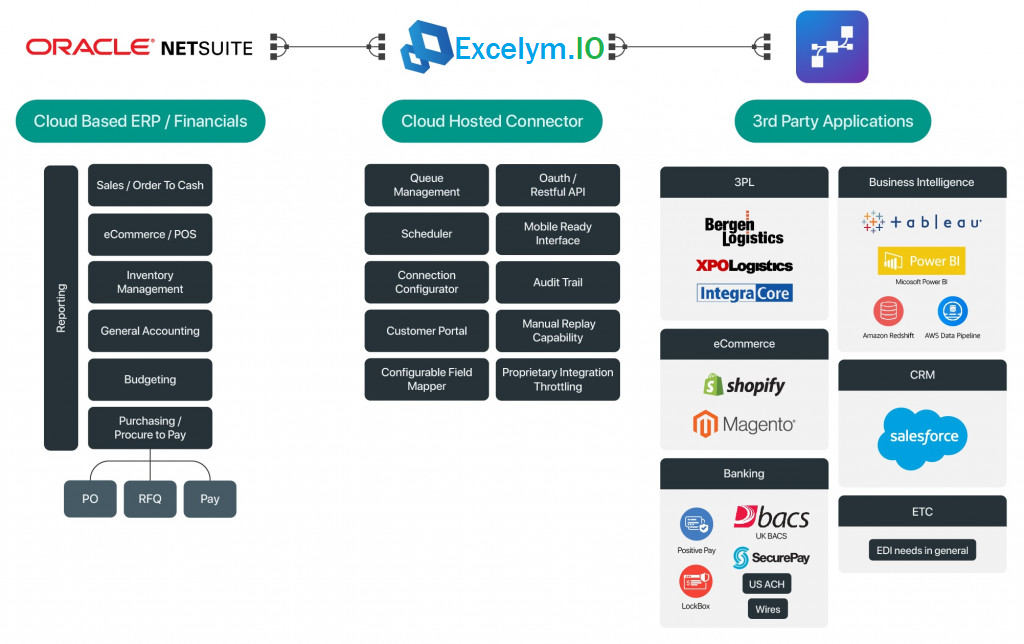 Excelym NetSuite and SalesForce Integration
Advantages of NetSuite SalesForce Integration
Even though NetSuite has a native CRM software most businesses still opt for the more popular and powerful SalesForce CRM. The tried and tested CRM software has made its mark in the sales industry because of its capabilities in automating the sales process. Integrating Salesforce CRM with NetSuite ERP gives clients access to both the advantages of both software. The streamlined customer relations model of SalesForce CRM together with the powerful NetSuite ERP suite of automating the business end to end process of suppliers to the warehouse.
With NetSuite ERP and SalesForce CRM, the entire process from lead generation to invoicing/fulfillment is automated and can be monitored in real-time. This gives businesses the ability to adapt to the rapidly changing demands of their clients, customers, suppliers, and vendors. It also efficiently improves timeline management and sales accuracy.
By automating the sales process and order fulfillment together with the capabilities of the CRM software like tracking customer information and customer history the customer experience is greatly improved. The Customer Support Process is greatly improved by reducing turnaround times. Increase Customer Satisfaction through the quick resolution of their issues and problems. Apart from improving the Customer Support Process the productivity of the Customer Support Department of the Business is also increased because of the improved accessibility to customer information and real-time access to the contract lifecycle from order, fulfillment and invoicing.
Integrating both NetSuite ERP and SalesForce CRM important business information like customer data, inventory, and the supply chain is synchronized in real-time reducing errors and improving the efficiency of the sales process. NetSuite SalesForce Integrations are common across business industries and sectors because of the combined advantages they bring to the business.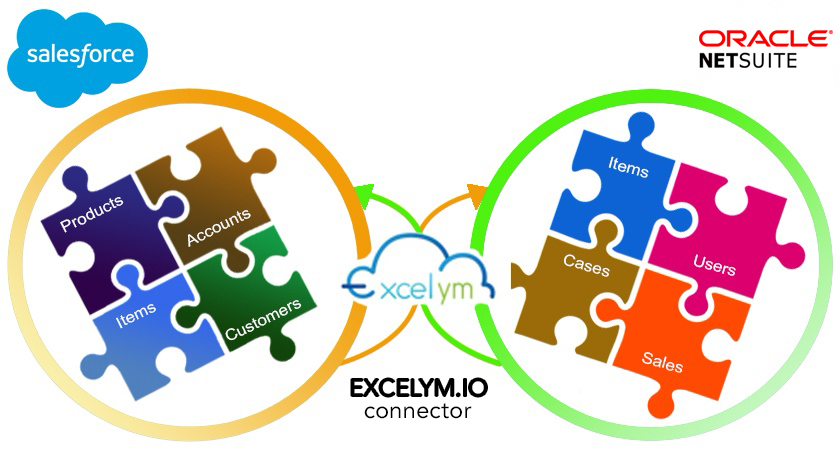 Key Areas Improved with the NetSuite and SalesForce Integration
• The SalesForce Customer Information is synchronized with the NetSuite Accounts for real-time tracking of customer history and information from the front and back office. This allows for easier tracking of customer interaction from beginning to order fulfillment.
• The Products are in sync with the quantity available in the inventory and providing real-time updates on warehouse stock, and product pricing. Minimizing mistakes in the sales quotes and estimates at the same time forecasting the demands of the customers.
• Accelerate the Sales process by streamlining the conversion of a potential client to a sales order by automating the creation of orders from SalesForce and Syncing it to NetSuite. SalesForce allows businesses to create accurate sales quote and generate sales orders in real-time.
• Improve Customer Support by providing the Sales Department and Customer Support Department synchronized data about customer information like invoices, orders, credits, holds and the sales cycle. Increase Customer Satisfaction by allowing Sales Representatives and Support Representatives  to provide real-time information to customers about their orders on demand,
Conclusion
There are many advantages of using NetSuite ERP. The ERP software allows a complete view of the company supply chain from end to end that greatly streamlines the procurement to the payment process. This also allows for greater collaboration between key suppliers and vendors throughout the supply chain. The automated processes also reduce the need for manual computing that causes bottlenecks in the accounting process. Automation of the various business processes also lessens the possibility of errors and mistakes at the same time improve accuracy, reduce billing time and increased efficiency.
A number of our clients in the Service Industry has opted to integrate both NetSuite ERP and SalesForce CRM and get the best of both systems. We are able to integrate both systems so that Sales Opportunities arising from SalesForce is automatically updated to sales orders in NetSuite when the deal is closed.
The Sales fulfillment, invoicing and revenue recognition occurs in NetSuite and is seamlessly synchronized real-time updates in SalesForce CRM.  In this real-life example, Salesforce was the system of record/ source of truth for customer and product data and such this is all maintained in salesforce and any additions and updates were seamlessly fed to NetSuite.