Last Modified: October 24th, 2022
3 min read
Businesses in the manufacturing industry are faced with a lot of challenges from the production floor, inventory, supply chain, quality control, and many more. Manufacturers are also faced with fluctuating customer demands, regulatory compliance, and a volatile business landscape.
NetSuite Enterprise Resource Planning (ERP) provides manufacturers with an omnichannel platform that seamlessly and comprehensively covers inventory and warehouse management, accounting and financial management, order management, e-commerce, and Customer Relationship Management (CRM).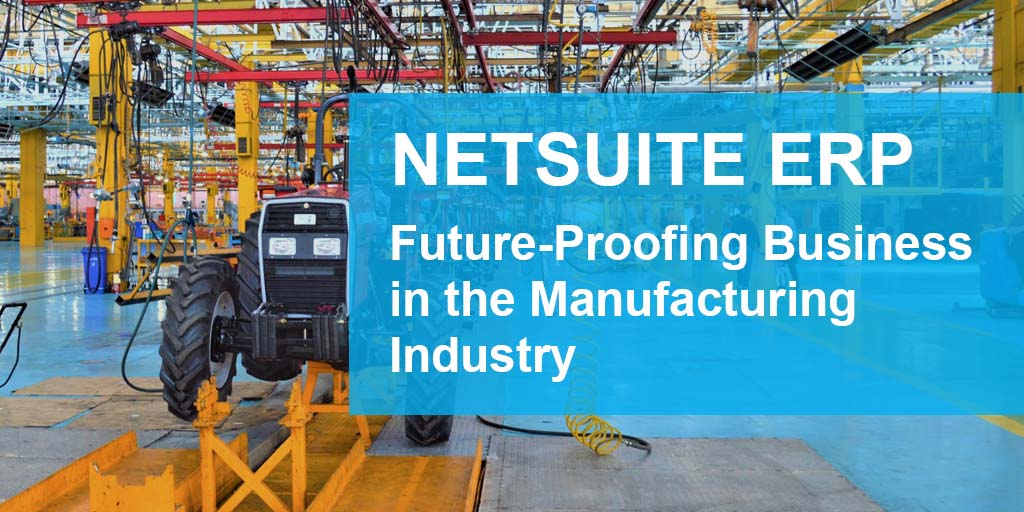 NetSuite for Manufacturing
NetSuite ERP is a cloud-based software as a service (SaaS) that is built for manufacturers. NetSuite offers Manufacturers a complete suite of solutions that are cost-effective and scalable. With a best-in-class architecture that is able to integrate into several third-party applications and is scalable to a global enterprise level that seamlessly connects global partners, suppliers, and vendors in real-time.
NetSuite allows and supports inventory management from multiple locations around the world, as well as work order management, assembly management requirements, bills of materials, bar coding, and other manufacturer-specific business processes. NetSuite ERP delivers the software infrastructure to support manufacturing in several core processes, like supply chain and manufacturing.
The NetSuite Advantage for the Manufacturing Industry
NetSuite automates several critical business processes, increasing efficiency and lowering the cost of human error. NetSuite ERP also gives you an advantage and a competitive advantage by reducing lead times to market for new products through streamlined manufacturing processes.
NetSuite also allows businesses to remotely monitor crucial business and financial information in real time to help businesses forecast demand and control costs. It also improves order processing efficiency and increases quality control to meet strict regulatory compliance.
NetSuite enables businesses with the flexibility, agility, and visibility to quickly adapt to a rapidly changing business environment.
Global ERP Solution
NetSuite allows for multi location management and automation of several core business processes for manufacturing, like supply chain management, CRM, inventory and many more. The cloud-based ERP system allows businesses to quickly access crucial business and financial information from virtually anywhere around the world in real-time. Real-time access to this crucial information allows businesses to quickly shift and adapt to a rapidly evolving business landscape.

Commerce
One of NetSuite's featured commerce capabilities is the ease of configuration over item pricing and promotions on a business's website for sales orders that have already been entered internally. NetSuite gives businesses the ability to rapidly expand through any sales channel, whether B2B, B2C, or others.
CRM
NetSuite also has a Customer Relationship Management (CRM) capability that helps drive the customer lifecycle and improve customer relationships. NetSuite CRM allows for the seamless flow of customer information across the entire customer/buyer lifecycle, from potential lead to opportunity, sales order, and fulfillment. NetSuite CRM also allows for repeat customers and handles support requests. This allows businesses to handle and manage renewals, upsell, cross-sell, and customer support.
Accounting/Financials
NetSuite accelerates your financial close, consolidates your global entity books, and provides real-time visibility into your business's financial performance. NetSuite also helps you manage revenue recognition, automate approvals and workflows, and maintain compliance with changing accounting standards. This allows your resources to work from a single source of truth for your sales and customer data.

Marketing
NetSuite has built-in marketing features that allow manufacturers to seamlessly synchronize and update their CRM data in real time. NetSuite also allows businesses to create, execute, launch and measure their marketing all in one omni channel platform.
Order Management
NetSuite has industry-leading advanced order management and fulfillment that is seamlessly integrated to provide an omnichannel experience. Automated order management and fulfillment systems minimize costs and improve customer experience through timely delivery and fulfillment of products or services.
Supply Chain Management
Supply chain management is a critical business process in any manufacturing business. NetSuite's integrated multi-location cloud-based supply chain management system enables businesses to control and have real-time visibility of their global supply chain.

The Excelym Advantage
NetSuite for manufacturing is streamlined to help increase efficiency and reduce overhead costs for businesses in manufacturing. NetSuite Solutions Partners like Excelym helps businesses in the manufacturing industry fully leverage NetSuite functionalities by identifying specific business requirements and providing cost-effective solutions according to those needs and demands. Excelym also provides consultation and implementation services as well as scalable support and business process outsourcing/ BPO options.
To learn more about NetSuite for business: NetSuite for Business
To learn more about the total cost of ownership: NetSuite Total Cost of Ownership
Contact us to learn more about how we can improve your NetSuite experience.