Last Modified: February 3rd, 2022
3 min read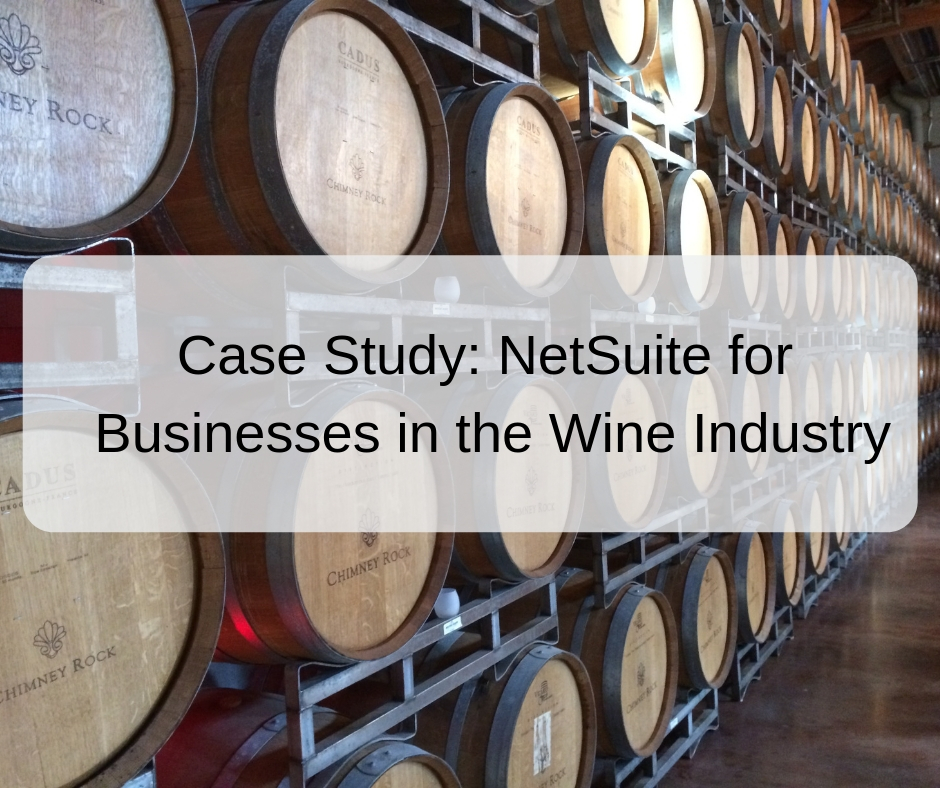 The Wine Industry in the United States has enjoyed decades of unprecedented growth since 1994. Long-Term growth has been attributed to several factors like higher than average sales, trends in the market, increased demand and consumption, stable world markets, and high spending power of various economies.
In 2017 the Wine Industry in the United States was estimated to be close to US$ 219.9 Billion but changing consumer preferences and consumer behavior threatened to stunt the growth of the industry.
Executive Summary
Recent studies have forecasted a slowdown in the industry. The slowdown has been attributed to several factors but most notably caused by changing consumer behavior, and the impact of the spending power of the new generation as well as the increasing market share of imported wines.
Cloud-based Enterprise Resource Planning software like are NetSuite has been tailored to target small and medium businesses. Cloud-based ERP system is easier to implement compared to an on-premise system because of lower upfront cost and scalable capability.
NetSuite Solutions Provider Partners like Excelym provide cost-effect solutions from Advisory, Implementation, Integration, Customization, and Support. Excelym helps companies determine their business requirements and advice on what license to purchase so businesses can fully leverage NetSuite cost effectively.
The Problem: Future Growth of the Wine Industry is Curtailed by Several Factors
A study "Growth of the Wine Industry 2018" by Rob Mcmillan has predicted a slump and leveling out of the growth of the industry that is attributed to the change of preferences of consumers, customer behavior, changing market trends, and fluctuations of cost and supply from raw materials.
There is strong evidence to suggest that the preferences of consumers are changing and the wine industry must adapt to cater to this change. The study also highlights the preferences of the new generation first time wine buyers to imported wines as compared to previous generations who prefer domestic wine. The change in preference is due to shifts in how consumers shop retail and the dining habits of the new generation.
The increasing market share of imported wines is attributed generally to the behavior of new consumers who are globally connected and focus more on "getting the best deal" compared to the preferences of previous generations.
The study also highlights the constant decline of small-winery sales to restaurants. The decline of the demand is also attributed to consumer behavior. The dining preferences of millennials have shifted compared to previous generations opting more for fast-food, casual dining and chain restaurants than fine dining compared to their more senior counterparts.
Changes in the market landscape like Wholesaler Consolidation and distributors favoring large wineries have consequently pushed out small wineries out of the retail scene and stymied growth. Small wineries are turning to the direct to consumer approach to boost sales by promoting tasting rooms and tours to their vineyards.
Solution: Adapting Enterprise Resource Planning Softwares to Future-proof the business
Managing and operating a business in the Wine Industry is hard and complex. The special checks and regulations applied to the industry make it complicated to increase and drive growth in the business. Factor in strict federal laws and varying state regulations makes the shipment, logistics, and sales a complicated ever changing puzzle to cope that is why most wine businesses rely on distributors to handle sales and shipments. Changes in the market landscape have resulted in small wineries relying on winery visitation and tours in an attempt to boost Direct to Consumer sales.
The growing pressure to adapt to changing trends and the additional challenges of complying with federal and state regulation increase overhead costs, decrease efficiency and bog down the management of the organization in a constant state of planning and playing safe. Enterprise Resource Planning (ERP) software like NetSuite helps business grown and reduce their operating expenses and overhead cost by automating several core business processes and financials.
NetSuite can be tailored to fit and meet the requirements and needs of the Wine Industry. In terms of initial and recurring cost concerns for small wineries, cloud-based software like NetSuite offer an attractive solution because of its lower initial costs compared to on-premise ERP systems.
NetSuite also has Solutions Providers Partners like Excelym that help businesses acquire NetSuite licenses and also provide advisory, and consultation services to help businesses determine their business requirements so they can fully leverage NetSuite's functionalities.
NetSuite provides businesses with real-time business intelligence that allows managers to plan ahead, generate forecasts and reports, track the inventory and supply chain of the business in one consolidated dashboard. This helps business to focus more on their core business like growing grapes and maintaining the vineyard.
NetSuite also helps business adapt to direct to consumer selling through their vineyard tours, wine tasting, and DTC shipments. NetSuite also has an e-commerce platform that will help businesses adapt and boost their online presence and open up a new avenue for sales and demand.  
For more information about NetSuite for Wine Industry:  NetSuite for Food and Beverage