Last Modified: May 23rd, 2023
4 min read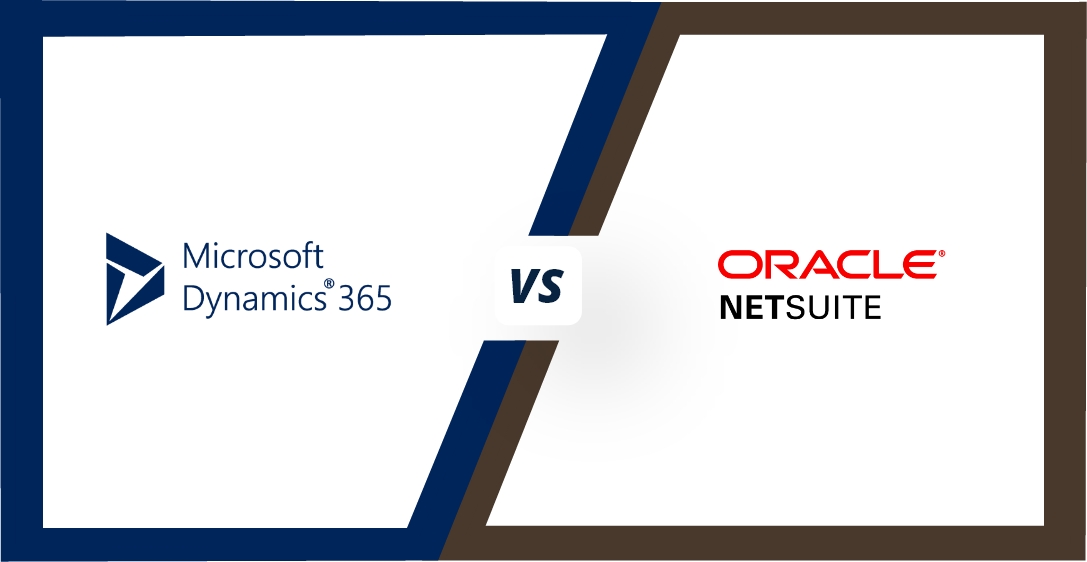 Microsoft Dynamics 365 vs NetSuite: A comparison on features that matter to you as a growing business
When it comes to selecting an enterprise resource planning (ERP) system, business owners have a range of options available. Two popular choices are Microsoft Dynamics 365 and NetSuite, both of which offer powerful features and capabilities to manage financials, customer relationships, operations and more. But which one is the best fit for your organization? To help you make that decision, let's take a look at how these two ERP solutions compare in terms of their key features.
Analytics and Reporting
NetSuite offers unparalleled analytics and reporting capabilities when compared with Microsoft Dynamics 365. The NetSuite platform provides a single-view of data, which creates a more comprehensive understanding of business performance than can be achieved through multiple systems accessed by disparate teams. This unified view allows businesses to quickly identify trends, evaluate customer satisfaction levels, measure employee performance and more. Microsoft Dynamics 365, while providing a basic set of analytics capabilities, doesn't offer the same level of detail as NetSuite in terms of reporting and analysis.
Financials and Accounting
Dynamics 365 Finance is essential for adhering to the intricate accounting regulations associated with subscriptions, which can be particularly important for software and service companies. Nonetheless, it necessitates a partner application in order to process subscription billing. NetSuite's core financials offer native support of subscription billing, plus the SuiteBilling app allows you to further customize your rates and invoicing schedules.
Billing and Payments
In Dynamics 365, there is only limited support for payments processing. The platform allows you to receive payments through a partner application, but doesn't include the ability to process payments in-app. NetSuite offers extended billing and payment capabilities that enable businesses to collect customer payments quickly, easily and securely within the ERP system.
Customizations
NetSuite's customizability and flexibility makes it the superior choice over Microsoft Dynamics 365 when it comes to tailoring an ERP system to meet a business' unique needs. NetSuite provides the ability to add fields, customize forms, create custom processes and more, allowing businesses to make their system fit their specific requirements. In comparison, Dynamics 365 offers limited customization capabilities and options in comparison with what is available in NetSuite. This level of flexibility makes the latter a better option for those seeking greater control over their ERP environment.
CRM (Customer Relationship Management)
When it comes to customer relationship management, Dynamics 365 offers an intuitive CRM system with powerful features such as lead and opportunity tracking, activity management, and customer segmentation. NetSuite also has a comprehensive CRM toolset that includes contact management, automated marketing campaigns, customer service solutions and more. In addition, NetSuite integrates with other business systems such as financials and inventory management to provide customers with a comprehensive view of their operations.
Integrations
Both Microsoft Dynamics 365 and NetSuite offer integration options with third-party applications to extend their respective functionalities. However, when it comes to integrations, NetSuite takes the lead due to its open architecture that allows businesses to easily integrate with a wide range of tools and platforms. This flexibility makes it easier for businesses to add features and customize their ERP environment as needed.
Revenue Recognition
NetSuite's revenue recognition engine simplifies the complex accounting regulations associated with ASC 606 and IFRS 15. This feature helps to automate many of the manual processes companies must go through when dealing with revenue recognition, such as journal entries, reconciliations and transfer pricing. Compared to Dynamics 365 which offers no native support for revenue recognition, NetSuite's solution is far more comprehensive and efficient.
In conclusion, while both Microsoft Dynamics 365 and NetSuite offer powerful ERP solutions, it's clear that the latter provides a more comprehensive feature set, customizability and integration options than its competitor. This makes it the preferred choice for businesses looking to maximize their efficiency and performance through an optimized ERP system.
Other practical considerations beyond the intrinsic features
NetSuite is an exceptionally cost-effective alternative to Dynamics 365. It provides businesses with a comprehensive suite of cloud-based applications to help them manage their business operations and finance. Unlike Dynamics 365, which requires the purchase of expensive enterprise licenses, NetSuite offers customers tiered packages that provide access to a wide range of features and applications on a subscription basis.
NetSuite is also highly scalable and can easily accommodate new users or customers as your business grows. With Dynamics 365, however, you are limited by the number of licenses purchased and may need to pay for additional licenses as your business grows.
NetSuite is designed to be easy to use, and the intuitive user interface makes it simple for businesses of all sizes to integrate their systems. With Dynamics 365, however, the learning curve can be steep and many users find it difficult to navigate the system's complex features.
NetSuite is available to provide assistance any time of day, seven days a week. Each customer receives individualized support by having their very own account manager who understands the system and customers' businesses inside out. In working directly with the vendor's experts, companies ensure they have access to knowledgeable professionals whose priority is their success.
We think NetSuite is a clear winner.
In conclusion, NetSuite is the clear winner when it comes to ERP systems. Its comprehensive feature set and open architecture make it highly customizable and easy to integrate with other applications, while its revenue recognition engine simplifies complex accounting regulations. Furthermore, NetSuite's tiered packages provide customers access to a wide range of features on a subscription basis; making it more cost-effective than Dynamics 365 which requires expensive enterprise licenses for each user. Finally, customer support options provided by NetSuite are superior as they offer individualized assistance from knowledgeable account managers who prioritize customer success. All in all, businesses looking for an optimized ERP system should look no further than NetSuite!