Last Modified: February 3rd, 2022
3 min read
NetSuite Cost for Implementation
NetSuite Enterprise Resource Planning (ERP) implementations is a long process that has a lot of factors that can make or break the success of the implementations. NetSuite Solutions Provider Partner like Excelym help businesses get the most out of their NetSuite implementations by providing valuable insights. Professional Services Cost is a part of the total NetSuite Cost that is why choosing the right partner in the implementation ensures there is a return in the investment.
Excelym stands out from the rest because of its value for money business model of combining an expert management team in the United States and a state of the art Philippine-based I.T. support technology center manned by professionals who are experts in their field. Excelym has a team of NetSuite Implementation Consultants that will help business identify their business requirements to fully leverage the functionalities of NetSuite.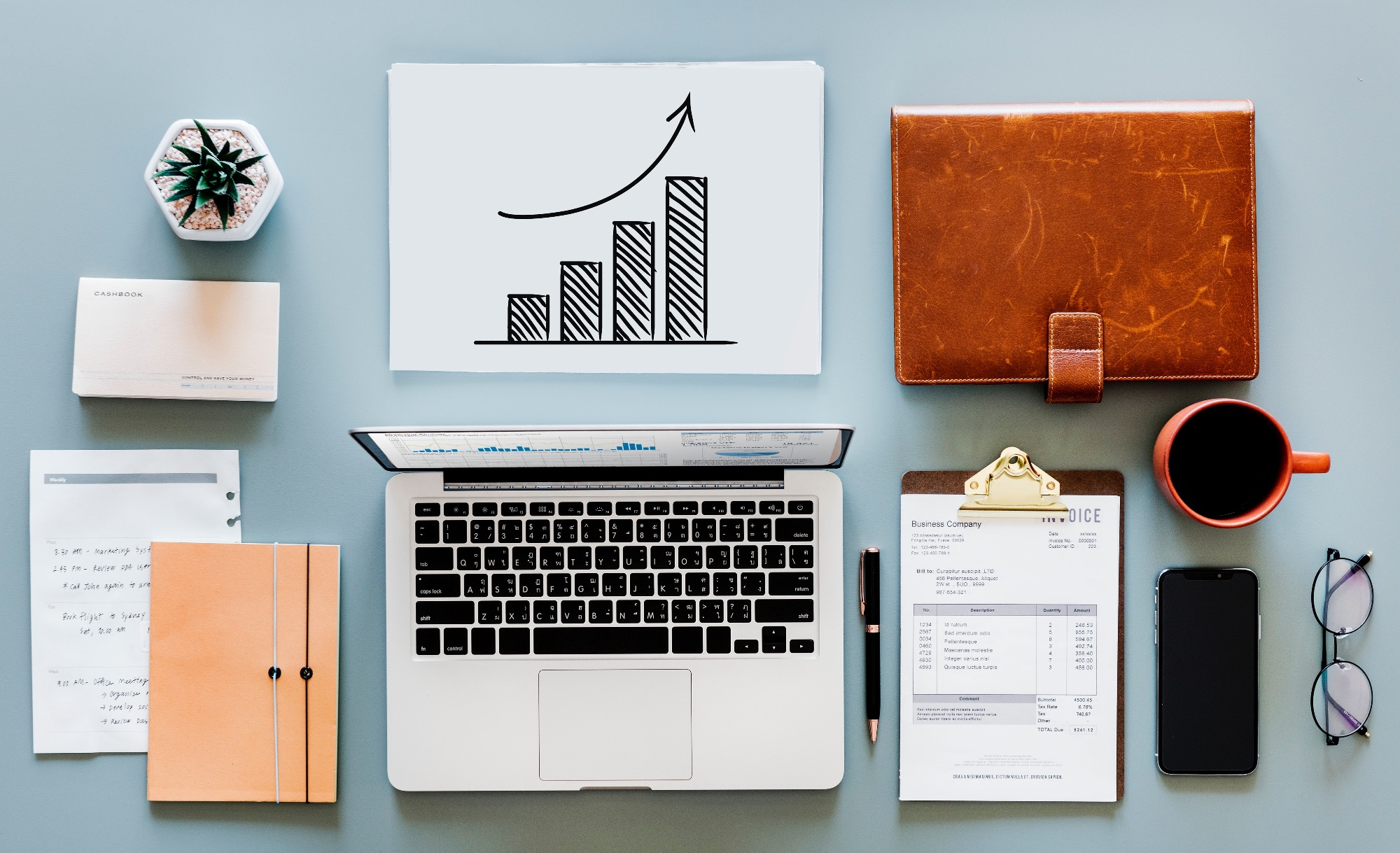 The Value for Money Approach
Excelym is the perfect solutions provider partner for small and medium businesses. The Professional Services Cost for Implementation allows small and medium businesses to avail of premium services at a lesser cost because of Excelym's cost-effective onshore and offshore business model.
Excelym provides businesses with two options in undertaking their NetSuite Implementation, depending on their requirements, timeline, level of expertise, size, and budget. Excelym offers a QuickStart and a Standard Implementation. It is committed to providing excellent support through a dedicated Project Manager and Business Analyst in each implementation project.
The Quick Start Implementation
The Quick Start Implementation is a fixed fee/ fixed bid implementation option designed for small businesses with little to no customization needs. The Quick Start Self Implementation Package comes with a maximum of 160 hours of consultation, guidance and advisory time with a 90-day expiry. It has a fixed scope and only includes standard modules from NetSuite. The Quick Start Implementation has a fixed rate of US$15,000.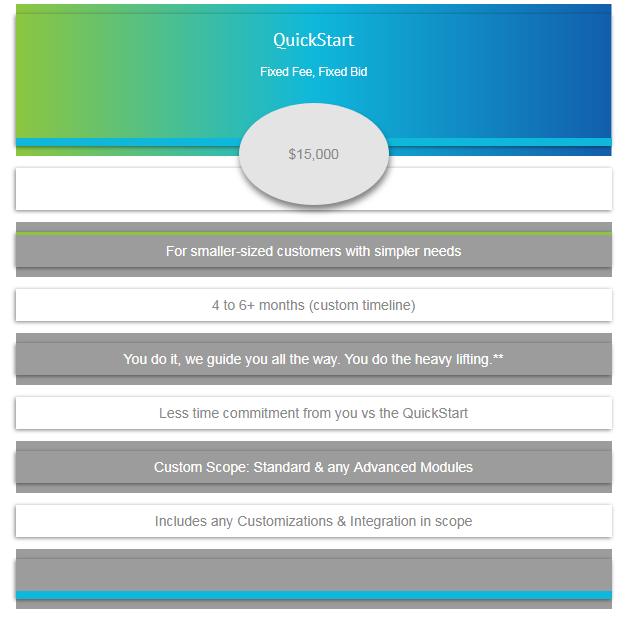 This Package is a NetSuite ERP Self-Implementation but businesses will be heavily guided by Excelym's NetSuite Implementation Consultants. The bulk of the implementation and data migration is performed by the client.
The Standard Implementation
The Standard Implementation Package is for businesses with specific requirements that require customization. Standard Implementation Packages usually start at $ 55,000 and upwards. A NetSuite ERP Standard Implementation usually takes 4 to 6 months depending on the degree of customization.
Excelym's standard implementation package allows businesses to focus on the operations of their core businesses and leave the rest of the data migration and implementation to Excelym's NetSuite Implementation Consultants.
The Standard Implementation Package includes provisions for Standard or Advanced Add-ons from NetSuite. It also allows clients for specific customization and integration with other third-party applications.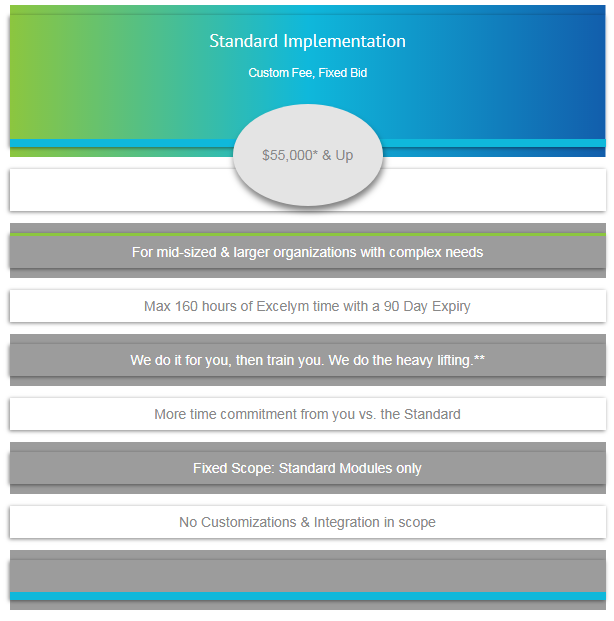 Conclusion
Excelym has a better engagement model to lower NetSuite Total  Cost of Ownership. Customers can expect a high degree of collaboration and support during pre-implementation, in the implementation itself and post go-live. With Excelym, clients have a higher success rate and a greater return on investment because of lower risk in the implementation and assurance that clients have fully leveraged NetSuite ERP's functionalities. NetSuite Solutions Provider Partners like Excelym provided premium services in a cost effective business model.
To Know more about the NetSuite Total Cost of Ownership read the blog below:
Did you find any outdated reference or broken content?
This is an older page and may contain outdated contents or references. We are currently working to update and fix these old pages but would appreciate a little help. Please let us know if you find anything that requires our immediate action.