Last Modified: February 3rd, 2022
6 min read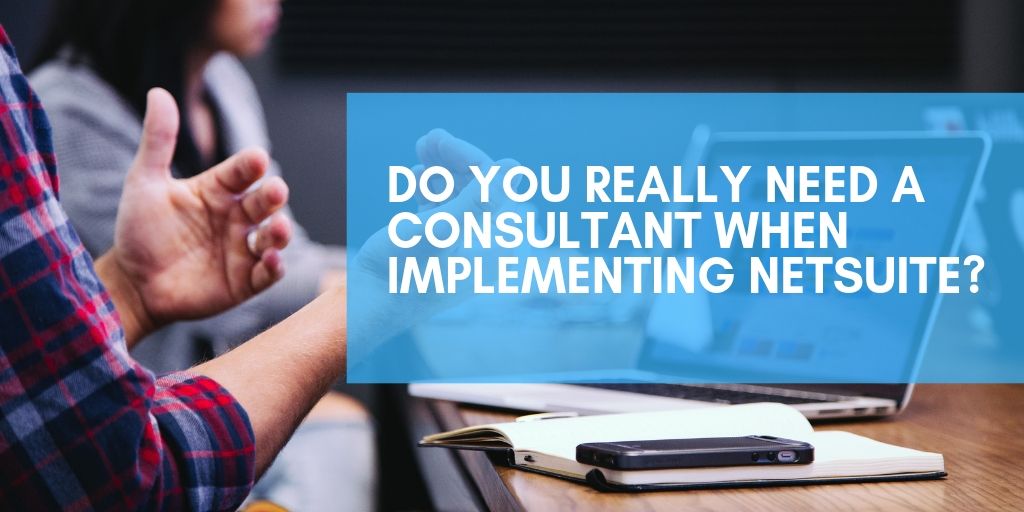 Do you really need a consultant to implement NetSuite? Maybe not,  but it can be the difference between success and failure. Let's take a look at some of the reasons why. 
NetSuite is favored by most because of its scalability and its cost-effective business automation processes that more and more small and medium-sized businesses are adopting. Businesses have several options in purchasing and implementing a NetSuite License and each has its own advantages.
Different options in purchasing and implementing NetSuite
Where to buy a NetSuite License?
Businesses can purchase a NetSuite License directly from NetSuite or from NetSuite Solution Providers. NetSuite Solution Providers, also known as NetSuite Partners or VARs (Value-Adding Resellers), provide their expertise in NetSuite ERP implementation and Integration.
Why how you choose to implement your NetSuite matters
After purchasing a NetSuite License, a business has three implementation options and these are:
Self-Implementation, where businesses can use their staff and resources;

Direct NetSuite Implementation from NetSuite itself; or

Through a NetSuite Partner or NetSuite Solution Provider.
Businesses must be aware that the quality and level of service and support also varies with each option.
Businesses who opt for Self-Implementation might need to hire an additional NetSuite implementation consultant in a temporary capacity to help implement NetSuite and the quality of service provided might depend on the skill of the consultant. It also brings with it a whole set of risks that might cost the company more in the long term. The potential errors that may occur during implementation or migration might outweigh the savings gained by opting out of the services provided by NetSuite or its Partners.
NetSuite Direct Implementation is NetSuite-assisted and business owners can be paired with NetSuite employees or support staff. However, this does not always guarantee that the resource is well-experienced or even technically certified with NetSuite. But the more pressing factor really is cost. As with most cases, from our years of experience in the NetSuite practice,  businesses would just end up switching to a third-party implementation provider/NetSuite Implementation Consultant/NetSuite Partner for scalability.
NetSuite Partners, particularly a NetSuite Solution Provider, have NetSuite Certified employees or NetSuite implementation consultants which have technical knowledge and experience with NetSuite software implementation. NetSuite Partners also provide an assurance that the NetSuite Implementation is up to standards and compliant with NetSuite's policies. A NetSuite Partner has the incentive to consistently deliver well so as to keep its NetSuite partnership.
A NetSuite Solution Provider is the best choice for companies who cannot afford to maintain an I.T. professional to roll out and support NetSuite on a long-term basis. Having a NetSuite Solutions Provider as a Partner also allows businesses to plan cohesively with a dedicated NetSuite Implementation Consultant.
Important things to consider before implementing NetSuite
NetSuite can be applied in a wide range of businesses in different industries that is why NetSuite Implementation is not as easy as clicking a button to start. NetSuite Implementation has a long and in-depth process that requires businesses to plan out their goals, needs, and requirements. The wide range of applications of NetSuite makes it difficult for companies to determine the scope of business processes that will be integrated by the ERP.
Companies should also consider if their existing staff can operate and manage NetSuite ERP. Most NetSuite Solutions providers include training existing staff as part of their implementation package. The training provided by solutions providers can greatly minimize the staff's acclimatization process and reduce stress and frustrations within the business.
Cleanliness and readiness of data
Before beginning the implementation of a new data system, ensure the accuracy and cleanliness of your existing data. Map out what information needs to be shared and in what specific formats and syntaxes, in order for all departments or business segments to share their individual information without any delays between them during testing and go-live tasks.
A challenging process and NetSuite is no exception. NetSuite, like all other enterprise systems, has a steep learning curve. NetSuite implementation consultants have undergone extensive training in order to understand the nuances of NetSuite's functionality; this depth of knowledge makes implementing NetSuite solutions simple. NetSuite implementation requires planning and preparing staff for change. A NetSuite implementation consultant can guide a business in identifying these changes and provide admin and system support responsively.
Once NetSuite has been implemented, most of its applications and features may not necessarily be used immediately or used correctly. It is important that post-go-live support is available for NetSuite users until they have gained full confidence in NetSuite.  NetSuite implementation consultants can provide the support and training needed to ensure NetSuite is fully utilized and business processes are executed without error.
There are many considerations to think about during the implementation process. From understanding your stakeholders and their needs to ensuring that you have a proper roadmap, getting buy-in from all parties involved with moving forward can be challenging. NetSuite implementation consultants from NetSuite partners are experienced in NetSuite implementation and can ensure that the NetSuite software is implemented successfully.
The Advantages of opting for NetSuite Solutions Providers (NetSuite Implementation Consultants)
NetSuite Solutions Providers like Excelym have a proven, refined, and streamlined NetSuite Implementation process that helps businesses efficiently integrate their existing processes with NetSuite. Excelym's highly skilled Netsuite Implementation Consultant can optimize NetSuite to fit specific requirements to help businesses leverage the full advantage of NetSuite ERP. Below are key stages in our NetSuite Implementation process.
Excelym's Key Process for NetSuite Implementation:
Business Process Analysis
We help businesses review their existing processes and analyze key areas to help determine and understand the business' requirements, goals, drivers, and targets. The first step of the Implementation Process is a detailed study to determine the best way of Implementation of the NetSuite ERP.
We examine the current state of business processes and provide businesses with an overview of the potential changes when migrating to NetSuite. Business Mapping is essential to prevent any unwanted changes to existing processes and to further streamline any redundancy.
Functional Specification Preparation and Review
NetSuite is a powerful software that can help businesses automate beyond finance, The ERP software can function across HR, CRM, inventory, supply-chain management, marketing, manufacturing, and e-commerce. We help companies determine the function that they will implement and the future functions that the business will eventually need as it grows.
We configure the Basic Set-Up of NetSuite ERP. Additional functionality and client-specific customization are then integrated into the software. NetSuite is a multi-tenant software with no limits to customization; NetSuite implementation consultants have the tools necessary to make NetSuite functional for any business. We help businesses learn how to use NetSuite in their day-to-day operations through training and
Data Migration is one of the pivotal processes in NetSuite Implementation and getting things right in this stage is crucial to avoid errors like double data entry, erroneous data, and loss of data that may hinder the roll-out process. We help prevent errors, minimize downtime and accelerate the successful completion of the migration.
Custom Coding and Scripting
Excelym has a team of adept developers that specialize in tailoring NetSuite's functionality to the business' requirements. Our expertise includes User-event scripts, Suitelets, Scheduled Scripts, Client Scripts, Portlet Scripts, and workflow action scripts.
Excelym provides businesses with custom seamless integration to other third-party providers like Shopify, Magento, SalesForce, and Concur. We help integrate third-party apps like Avalara (for Sales Tax Calculation & Compliance) and Cybersource (Credit Card processor).
We can help train new or existing staff to operate and maintain NetSuite. Excelym's highly detailed process ensures a seamless transition and integration to the NetSuite ERP environment. Our team of highly skilled Implementation Consultants is ready to help businesses every step of the way from pre-implementation planning, to the NetSuite Implementation itself and post-implementation.
Excelym's unique business model ensures that businesses enjoy premium reliable service in a very cost-effective package. NetSuite's Service Continuum from Advisory, Implementation, Customization & Integration to post-implementation support ensures that businesses are totally covered with their needs and requirements.
Final words
To answer the question- absolutely YES. NetSuite Implementation consultants are experts who understand NetSuite's powerful features and how they can help your business grow. NetSuite implementation is an investment in the future of your company, so you'll want to make sure it goes smoothly. They will ensure that NetSuite is tailored to your business' needs and help you discover all of NetSuite's powerful features. They have years of experience successfully implementing NetSuite and identifying automation opportunities for companies in various industries. They can save you time, money, and headaches.
We provide our clients with valuable expertise and insights including cost savings solutions to maximize NetSuite's potential for the business. Our collaboration from pre-planning to post-implementation helps foster a better relationship and greatly improves the level of support we provide.
Read more about NetSuite and ERP: