Last Modified: January 17th, 2022
3 min read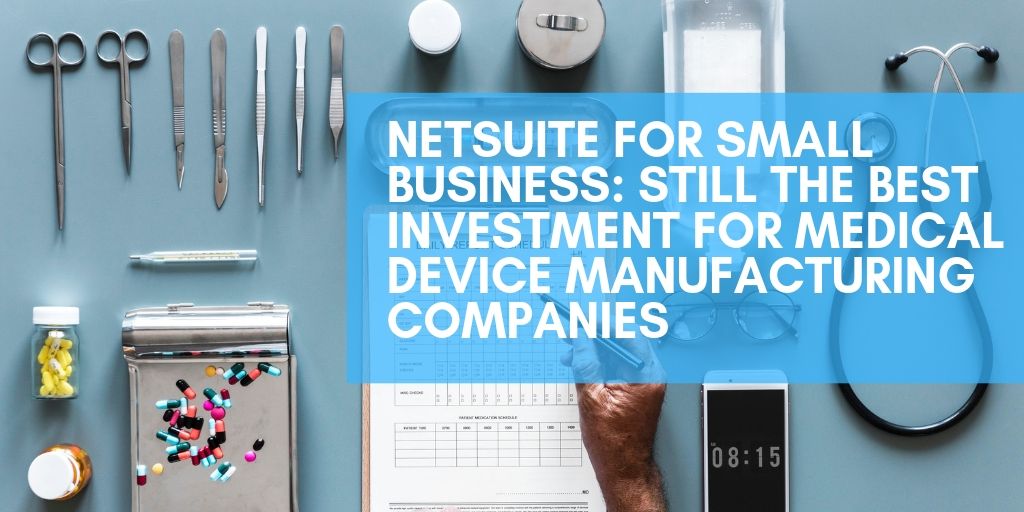 NetSuite is considered one of the best investments for medical devices manufacturing companies. It provides all-access to the essential areas of medical devices manufacturing which includes optimizing your resource utilization and reducing both production costs and time-to-market cycle times. Nowadays, keeping up with your business means having real-time collaboration and tracking tools, tight version control, and comprehensive product oversight. 
NetSuite for small business is geared towards important business process automation so you'll have all the time to focus on product development or think about your next business expansion strategy. Moreover, we've also listed below NetSuite's most popular benefits on why it's considered the best for small and medium businesses in the Medical Devices and Manufacturing Industry.
1. Improved Tracking Capabilities and Consistent Compliance
NetSuite includes a thoroughly defined tracking feature that guarantees effective product traceability. This makes your business disaster-proof in times of product recalls. This feature is particularly important for the medical manufacturing industry as it keeps every product under close watch. Also, having equipped with corrective and preventive action (CAPA) plan feature, NetSuite solves another headache for business owners in ensuring that factory outputs are fully compliant with government strict regulations.
2. Enhanced Fulfillment through Automation
Behind a unified business management solution is an integration of all business processes from different departments of your company. Gone is the need for having a number of separate software for HR, production, finance, and accounting. NetSuite pushes the limits of management efficiency thereby decreasing potential errors. So if you're aiming to not only keep up but be really ahead of the competition in this extremely dynamic industry, check if your current business management tool makes your employees only work on things that really matter.
3. Adaptable Software Platform
Another problem faced by medical manufacturers is the need for a competitive ERP system. One that allows integration with industry-leading programs and other software packages. These programs refer to your CRM, billing, inventory management,  arty logistics. Providing you a central repository of product information in tracking your entire manufacturing process. However, you need more than just a unified business management solution. A responsive and scalable implementor is a must-have in your list along with a product lifecycle management system.
Make the Most Out of NetSuite for Small Business
Specific to medical devices manufacturing companies that are growing to scale, adopting NetSuite for Small Business will reap the benefits detailed above. 
Excelym has learned one key lesson from working in this specific industry, the medical devices, and manufacturing industry, – you can further enhance NetSuite's effectiveness and efficiency as a unified business management solution by integrating it to a PLM (Product Life-Cycle Management) system. These PLM systems focus on the management of an organization's bill of materials (BOM), product change management and supplier collaboration.
PLM systems, like Arena PLM, help you design, produce, and deliver complex products to the market by connecting your product record, quality processes, and supply chain partners. By enabling the operations teams to have early visibility of the new product's materials prior to full-scale production ensures early planning and procurement optimization. This, in anticipation of the move to the production system in NetSuite. Not only does this allow the transfer of information into NetSuite in a timely fashion but also aids in streamlining the whole process, helping you create innovative products efficiently.
Excelym has experience integrating NetSuite and PLM systems like Arena PLM. Our built for NetSuite connector (Excelym.IO) effectively orchestrates the needed transfers and transformation of data required by most medical devices and manufacturing businesses.