Last Modified: February 6th, 2023
3 min read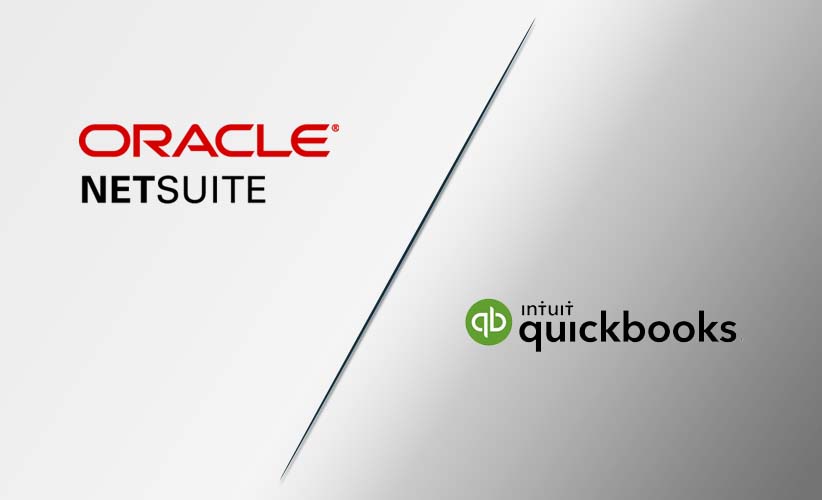 Many small business owners use  QuickBooks Online to manage their company's finances. QuickBooks is an excellent software and many people swear by it, but if you're looking for a Quickbooks alternative that has all of QuickBooks features PLUS some additional ones, then this article is for you!
Intuit has been the big dog in the accounting world for decades now with over  4 million users and 200,000 ProAdvisors, it's easy to see why.  As a starter accounting package, QuickBooks is easily the practical choice providing the basic functionality of an accounting management system.
However, when it comes time to look for alternatives to QuickBooks online, there are a number of cloud-based accounting & ERP solutions ready and willing to compete with this accounting software powerhouse. One of these trusted Quickbooks alternatives is NetSuite. NetSuite is preferred because it's an all-in-one business management suite. It offers more than just accounting and billing, with its comprehensive set of modules you don't need to have an external-built business solution.
But let's not start singing praises on how great NetSuite is as an accounting & finance tool as this post is not intended to. This blog is written to make you aware of the realities of sticking with a feature-limited and non-scalable accounting system. NetSuite just happens to be the best option to look at as an alternative.
Four telltale signs that QuickBooks is no longer for your thriving business:
Not able to get information on the organization in real-time without much fuss

Zero to limited visibility into key performance indicators

QuickBooks core functionality does not keep pace with the needs of where the business is heading

Inability to scale the organization into multiple locations, especially true with global expansion
Given you're reading this blog, you may be early in the research phase and curious about what are the alternatives to Quickbooks online and whether or not now's the time to make a change.
What changes do you want to see in your current accounting process?
There are dozens of ERP software solutions designed to help you manage various processes–everything from inventory management to customer acquisition and getting out the monthly financials. But before you go dissecting the capabilities of each of the solutions available, try to visualize your ideal situation or goal and work backward. Here are just a few examples to help illustrate the point.
An improved order-to-cash process by ____ days

Improved financial reporting, forecasting capabilities

Improved vendor management and procurement processes

Improved collaboration, decision-making, and automation

Improved audit trail: accountability and ownership among team members

Improved accessibility of real-time information from anywhere & anytime
If you could say "YES" to a few or all of these bullets how would this change your organization?
How much & how fast do you intend to scale?
Having the right software in place will be critical to making the leap. Are you looking for your "forever home" in an ERP solution or do you just need a short-term stopgap measure? This mindset will be important as you evaluate alternatives to QuickBooks online since there are applications that can provide that "baby step" (e.g. Intacct) between QuickBooks and a real ERP solution such as NetSuite.
What should you look for when evaluating an accounting software?
Not all ERP software are created equal. There are features and capabilities unique to each application. We'd suggest you consider a unified approach like NetSuite, one that spans the whole of the business, linking key business processes together on the same platform.
Having inventory, projects, sales forecast, and financial data on the same platform provides companies with a competitive advantage just not feasible with many of the QuickBooks alternatives such as Intacct, FinancialForce, etc.
The NetSuite Edge: The benefits you'll get from transitioning to NetSuite
Real-time business information and insights.
Accounting and Finance can't be blind to actual business performance. Complete visibility of your company's financial standing establishes transparency and a collective sense of urgency among team members so they can act on potential opportunities and threats in a timely manner.
Accurate financial closing and on-time reporting.
Greater flexibility and shared accountability allow seamless exchange of financial data–making it easier than ever to reconcile, close, and submit mission-critical reports on time.
Back-office efficiencies.
An integrated and online platform eliminates costly wait times, human errors, inconsistencies, and controls between customer service, sales & marketing, operations, and accounting.
Is NetSuite the #1 alternative to Intuit QuickBooks Online? 
We certainly think so! We could mention all the marketing fluff about how it's used by over 20,000 organizations worldwide but it really comes down to how NetSuite has helped financial and accounting professionals like you and also service providers like us do our jobs better, faster, smarter. We've seen enormous success with migrating clients from Intuit QuickBooks Online to NetSuite and the transformative impact it had on those organizations.
But like much of life, seeing is believing! Let us show you how NetSuite can be the ideal QuickBooks alternative for your growing business.