Last Modified: February 3rd, 2022
5 min read
Are you considering setting up a ecommerce site for your quickly growing business?
If so, you are in good company, according to Absolunet in 2017, 10% of all US retail sales is conducted online and that figure is steadily growing to nearly 15% every year, not to mention that over 50% of in-store purchases are influenced by ecommerce and digital content.
If you're already convinced ecommerce is an investment you are planning to make in 2018 Shopify should be given serious consideration during your Ecommerce platform evaluation however don't let it be the only one.
Keep reading as this guide will help you understand what Shopify plan is right for your business and will help you understand how much does Shopify cost.
Note: For info on Shopify vs Shopify Plus Pricing Go Here: The Ultimate Cheat Sheet on Shopify Plus Pricing
Chapter 1: High Level Shopify Pricing Overview
What Shopify Plan is Best for my Business?
1. Shopify Lite
Shopify Lite is the entry level option and best for businesses that have an existing blog & website or sell on Facebook or in person on a mobile device.
Shopify Lite Cost Per Month: $9 per month
Note: To sell your products on Instagram, you need to be on the Basic Shopify plan or higher.
2. Shopify Basic
The Shopify Basic pricing plan provides all the bells & whistles that a business needs to sell online.
This Shopify plan also includes a blog and the ability to sell on other channels like Amazon, Pinterest, Facebook and now Instagram.
Basic comes with the hosted ecommerce site and blog with unlimited products, fraud analysis tool and 24×7 support.
Shopify Basic Cost Per Month: $29 per month
3.Shopify
The Shopify pricing plan includes the features listed above in Basic in addition to advanced capabilities like support for gift cards, cart recovery solutions and offers more stronger reporting capabilities.
This plan also has a lower processing rate therefore you if have more than $25k per month in sales the Shopify plan will make the most sense financially.
Shopify Cost Per Month: $79 per month
4.Advanced Shopify
The Advanced Shopify pricing plan is designed to support high-volume businesses with all the features above plus includes support for real-time shipping rates and customizable reporting capabilities.
With Advanced Shopify there is a decrease in the processing rates therefore if your monthly sales volume is over $110k per month moving to the Advanced plan will be most financially advantageous.
Advanced Shopify Cost Per Month: $299 per month
Shopify Subscription Length
When it comes to to setting up your Shopify account you can subscribe either monthly or annually.  We generally recommend an annual plan for well established businesses or a monthly plan for startups or those who desire to "test the waters" to see if an online sales channel can boost sales without a major financial and time investment.
With both plans you can upgrade, downgrade or cancel at any time without being charged a fee however those that sign up for an annual plan are on the hook for the entire year. By committing to a year expect to save roughly 10% and for those that can commit to two years you will be shaving around 20% off the standard Shopify cost.
Chapter 2: Shopify Pricing & Feature Comparison Matrix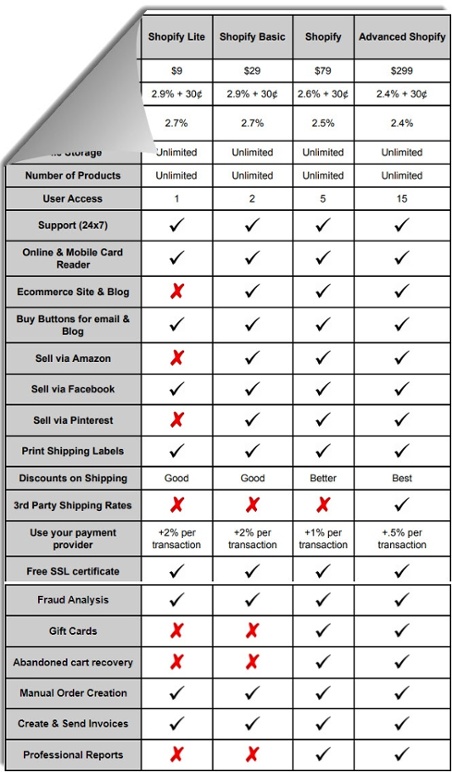 Download Shopify Plan Comparison >>>

Chapter 3: Other Cost Considerations
Shopify Point-of-Sale (POS) Add-On
For existing Shopify users that have brick and mortar operations or those that are selling in person (e.g. trade shows) may want to consider Shopify's POS solution for an additional $49/month.
Keep in mind however, depending upon your business model there may be better options available.  For example, a common complaint is that Shopify POS does not support "leave a tip" feature which could be a burden for industries where its common to leave a tip (e.g. Hair Salon).
Shopify Apps
While Shopify will provide most business with the core functionality required for a full fledged ecommerce site, each business is unique and may have needs above and beyond out-of-the-box Shopify, which is where the Shopify App Store comes into play.
The Shopify Apps store can help you find additional products to source, increase site traffic with SEO Marketing & Email Automation tools and provide greater controls around inventory management.
Shopify's third party apps are offered on a monthly subscription basis which has the advantage of a low cost of entry however those cost can add up fairly quickly. Shopify apps will typically fall in the $50 to $500 dollar range per month depending upon the type of application.
Shopify Integration
Another area of cost consideration has to do with integrating Shopify to your existing accounting software and inventory management system.
Shopify does provide APIs which allow developers and customers to develop their own integrations, as well as 3rd party software vendors to create Shopify Connectors for various ERP and accounting systems.
On the surface it may sound fairly straightforward however keep in mind there could be some use cases  (e.g. Support for Gift Cards)  where APIs are not supported by certain Shopify plans therefore its best to speak with a Shopify expert prior to choosing plan.
Shopify Web Design
As with all ecommerce projects, there should be allocated budget for the web design component of the initiative to ensure a professional looking and properly planned go-live.
Generally speaking most small businesses are ok with a templated approach which can save you significant money and reduced time to launch, however for larger organizations its highly probable you'll want a custom design unique to your brand.
Depending upon the approach and scope you can expect to spend a few thousand for a templated approach to several thousands of dollars for a fully custom designed site.
Thinking Shopify Might Be Right for You?
We've worked with hundreds of companies just like yours on their e-commerce initiatives. In addition to helping you choose the best Shopify plan, we can also help you evaluate other ecommerce platforms such as Magento, NetSuite SuiteCommerce and more to make sure you pick the best ecommerce platform not only for now but one that will scale with you in the future too.
Excelym is a Shopify Partner

Did you find any outdated reference or broken content?
This is an older page and may contain outdated contents or references. We are currently working to update and fix these old pages but would appreciate a little help. Please let us know if you find anything that requires our immediate action.