Last Modified: February 6th, 2023
4 min read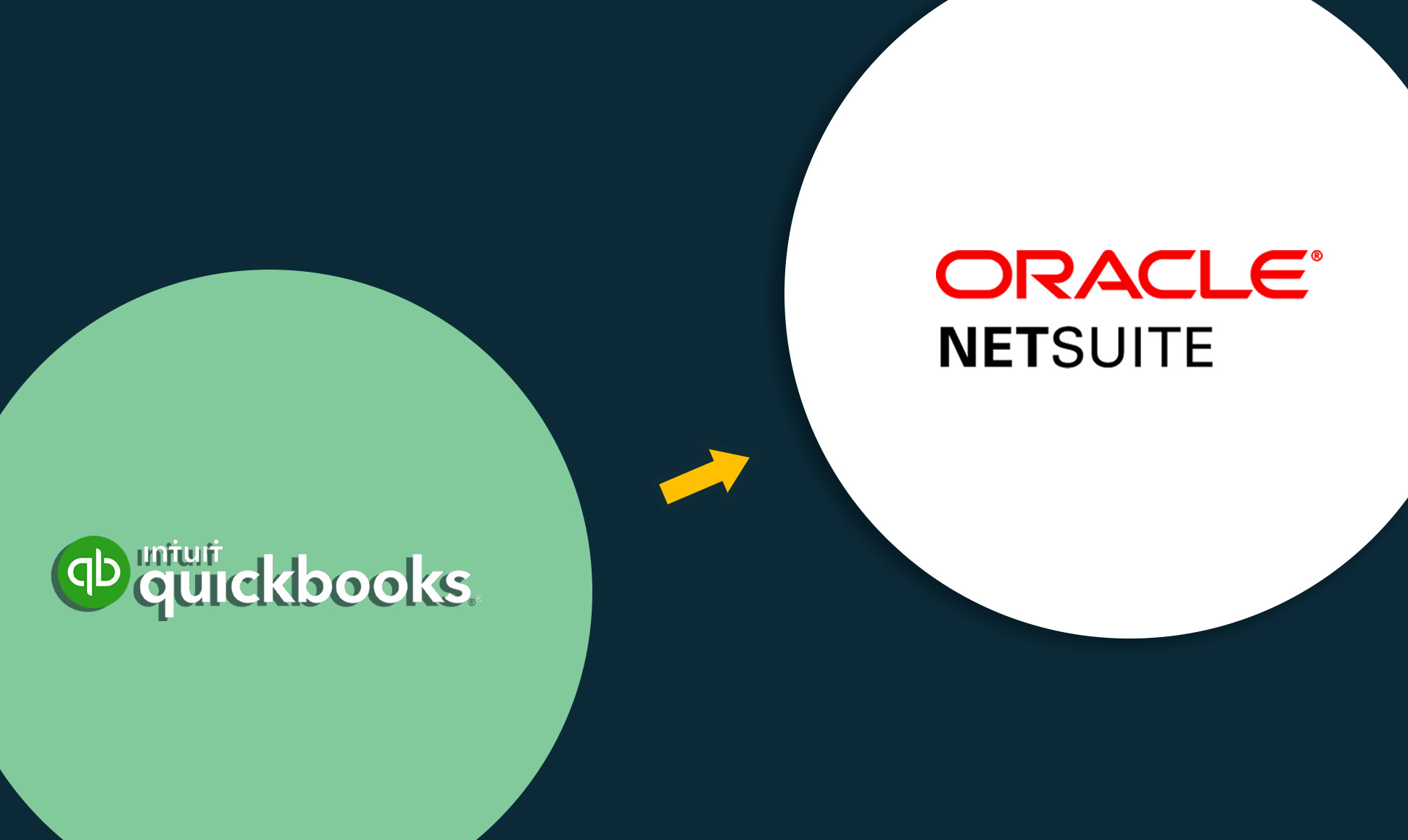 This blog post will cover why businesses switch from QuickBooks to NetSuite. It's a popular question in the business world: "Why are companies converting from QuickBooks to NetSuite and what benefits do they see?" We'll go over why they choose to switch, how you can convert your company, and why it's beneficial for both you and your customers.
See our NetSuite vs QuickBooks Guide for a detailed feature comparison
For many years, QuickBooks has been the go-to accounting software for small and medium businesses. However, as a company grows in size, managing everything from a single product becomes difficult. Growing in size means that there is more need for flexibility and scalability than what could be offered by just QuickBooks. Businesses have begun making the switch from QuickBooks to NetSuite to solve these issues.
The Benefits of Converting from QuickBooks to NetSuite
More time-saving automation features
Converting from QuickBooks removes these manual steps and replaces them with automated tasks, which can save you countless hours of administrative work down the road. You do not have to depend on spreadsheets to store your customer information, which can lead to errors and inconsistencies. You're converting to a system that's designed for the future with built-in features such as eCommerce capabilities and an open API – meaning more flexibility in what you can do online.
More robust, intuitive, and reliable accounting system
The NetSuite accounting system can also provide you with more robust financials and a clearer picture of the health of your business. It includes features like mapping cash flow, forecasting budgets, tracking profit margins, and analyzing inventory.

Complete and real-time visibility of your company's financials
The data, contacts, and invoices are all up-to-date and accessible. This provides peace of mind. Being able to see what's going on in real-time makes it easier for the person converting.
Scalability
Perhaps the most important benefit is the reason you're here. Because of NetSuite's principal feature—having a single source of truth—everything is simplified. This is critically important when your business is rapidly scaling and your market or market locations are expanding. You have to deal with different accounting standards, currencies, taxation standards, business requirements, and more. With NetSuite, you can automatically consolidate financial data from other systems into one place, saving hours in the process.
Improved customer experience
NetSuite provides you with customizable workflows to give each client an individualized experience that is tailored to their needs. It's also much easier for your team members to deliver the best customer service experience.
Ease of the conversion process
The system is also cloud-based, which means converting from QuickBooks will be easier and more convenient. The best part about this transition is that no data will be lost with you migrate from QuickBooks to NetSuite, and in most cases, user experience with conversion remains unchanged or even improved.
Other built-in features
NetSuite also has built-in features to manage a wide range of other aspects of your business as well, from inventory management and shipping logistics to customer service. NetSuite also offers a variety of integrations with other popular business systems such as Salesforce and Shopify. This means that it's easy to sync NetSuite data with external applications so you can access them on the regular without having to export files or manually enter information from one system into another.

The Benefits for Your Clients When Converting From QuickBooks to NetSuite
The benefits of converting from QuickBooks to NetSuite don't just stop with the business owner. The company's clients will also be able to benefit as a result, including:
Easier access and management of information because it's all in one place

Enhanced security and data protection because the information is managed in a much more secure environment

Quicker, more reliable response times from customer service representatives because the data is all in one place instead of scattered across different systems or platforms.

More accurate and complete information for analysis purposes thanks to NetSuite's robust reporting suite.
Steps for transitioning from satisfied customers who are happy they switched from QuickBooks to NetSuite
The transition process is simple. There are a few steps that need to be taken before transferring the data over and then it's just a matter of importing the information into NetSuite. This way, you'll be able to keep track of everything without having too many different products.
Step One: Create a Transition Strategy
The first step is to create a transition strategy and select the appropriate packages for your company. If you're just starting, then it's best to start with an Essentials package to get started quickly.

Step Two: Train or Hire Administrators
In this step, train administrators on how to use the software and then have them convert any data over. It's important to make sure that the people in charge of running your company are fully prepared and ready for a change.

Step Three: Decide on an Implementation Strategy
In this step, you'll need to decide how best to implement NetSuite within your organization. This will depend on what makes sense for each business owner based on the size and type of their company.
Best Practice Tip: Hire a Consultant
Along with the transition to NetSuite, businesses are also choosing to use an outside consultant. This is a good idea because it helps you avoid going through the process alone and ensures that the switch will be successful. Businesses that have hired consultants to transfer their data over have found that this simple step helped make things much easier.

Closing Thoughts
QuickBooks is great for small and mid-sized businesses but as an organization scales up there are more needs for flexibility and scalability than what can be offered by just QuickBooks alone. Businesses have begun making the switch to solve these issues with NetSuite being their go-to accounting software now.
If you're ready to convert your company's accounting software and want a hand in the process, we can help. Or if you're looking to make this transition yourself, contact us today and we'll walk you through how easy the conversion process can be and we'll also help make sure your customers don't experience any downtime during the switchover. We'll work with you every step of the way from assessing your needs to designing your custom plan so it fits seamlessly into how you do business.
Contact us today for more information on converting from QuickBooks to NetSuite! Or download NetSuite's "FROM QUICKBOOKS TO CLOUD FINANCIALS."