Last Modified: September 8th, 2022
3 min read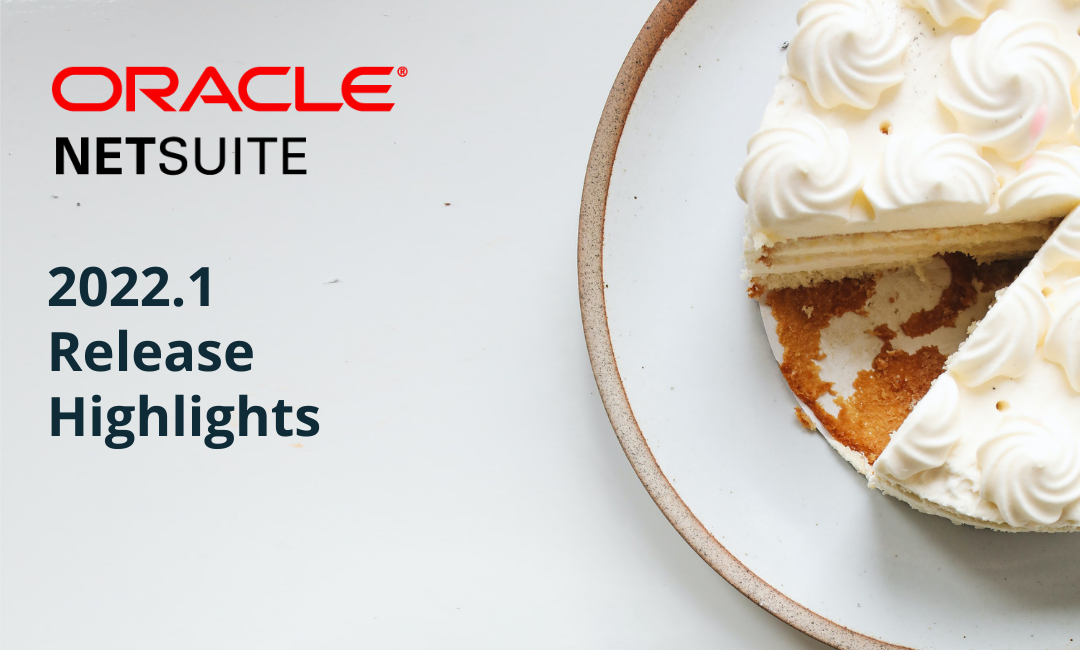 NetSuite's semi-annual release cycle provides customers with new features and enhancements that help them run their businesses more efficiently and effectively. The 2022.1 Release is no exception, with many new features and improvements across all areas of the NetSuite platform. In this blog post, we will take a look at some of the key highlights from the new release.
Here's our top 10 list of new and improved features and industry-specific functions:
1. Subscription Billing
The NetSuite SuiteBilling module has been upgraded to create invoices for varying amounts between service periods. This will streamline the invoicing process and make it simpler for subscription companies to manage their billing. The new system will generate the proper charge amount, which will flow seamlessly to the invoicing process. This will make it easier for companies to present clear and accurate invoices to their customers.
2. Banking
NetSuite has expanded the Bank Feeds functionality with the ability to automatically create Customer Payment records for unmatched positive amount bank lines. This means that if you process a large number of customer payments each day, you can now take advantage of this feature to save time and effort.
3. Supply Planning
You may now apply gross margin and revenue as criteria to optimize allocation in Netsuite Supply Allocation. This will help you balance your inventory in a more effective way. You can also now generate supply planning reports for any time period to better understand current and future inventory needs.
4. Cash360
Cash 360 is a NetSuite-embedded automation that improves forecast accuracy and saves finance teams time by immediately accessing NetSuite data. Cash 360 allows NetSuite users to take advantage of a simplified and accelerated cash flow forecasting method to provide them with greater confidence in their financial choices. This enables businesses to handle cash flows and accounting in a more efficient way, with greater control over inflows and outflows, as well as improved flexibility in financial selections when used along with billing automation, bank reconciliation, and more.
5. Project360
Project360 unites diverse components within a single platform, ensuring that all project data is visible in one location. It strives to provide a centralized dashboard where all project-related information may be found promptly. Project Managers can quickly access critical project information such as ETA, project resources, due dates, and finances including actual vs total spending, utilization, wastage, and more.
6. Analytics Data Warehouse
NetSuite Analytics Warehouse is the only pre-built analytics platform and data warehouse built to work with NetSuite. Leveraging the Oracle Analytics Cloud, a machine learning-powered analytical tool, and Oracle Autonomous Data Warehouse, a data warehouse that automatically tunes, scales, provisions and patches itself, NetSuite Analytics Warehouse brings together multiple sources of data, including NetSuite data, CSV files and other business system data, to discover patterns and insights that unlock new opportunities to drive growth.  
The Analytics Data Warehouse is a powerful data warehousing solution that enables businesses to take advantage of their NetSuite data like never before. It provides the ability to quickly generate custom reports and dashboards to gain insights into business performance. The data warehouse runs on Oracle's Autonomous Data Warehouse and a machine-learning-powered analytics tool.
7. Wholesale industry benefits
NetSuite's Warehouse Management System (WMS) can now handle zone picking, in which pickers are assigned to separate zones and items before being combined. The NetSuite Pack Station mobile app has been updated with enhanced accuracy and the capacity to vary weight units.
8. Retail Industry benefits
Employees may allocate and ship in a single procedure using first-expired, first-out (FEFO) allocation. Retailers can use inventory more effectively while also reducing waste from expiring goods by further verifying their shelf life.
9. Manufacturing industry benefits
Production managers several improvements, most notably the ability to select and apply filters to the Supply Planning Workbench in order to see only information that is relevant to their specific duties. This can be an extremely helpful tool for keeping track of production schedules and ensuring that everything is running smoothly. In addition, the updated workbench now includes itemized information on each step of the production process, making it easier to identify potential bottlenecks or areas where improvements can be made. Overall, these changes should help production managers to better understand and manage their manufacturing operation, leading to improved efficiency and productivity.
10. Service industry benefits
More accurate, up-to-date project progress and cost estimates are now available with Estimate at Completion (EAC) forecasting capabilities. There is also a project-based dashboard within SuiteProjects to give users a quick, at-a-glance view of all their projects. The enhanced project functionality will enable service organizations to improve resource utilization and optimize project profitability. By leveraging Project360, NetSuite users can now take advantage of a single, complete view of customer projects to deliver on-time, on-budget results.
The above list of new and improved features and functions is not exhaustive. For a comprehensive guide of the new release updates or highlights, please download the NetSuite 2022.1 Release Notes.